Verna Coleman, Miles Franklin in America, Her Unknown (Brilliant) Career
(Angus & Robertson, Sydney, 1981)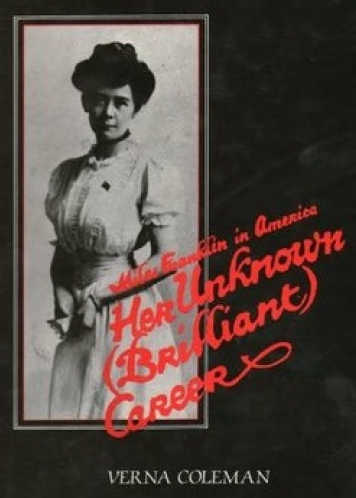 Reviewed by Adrian Cameron, March 2021
In 2013 I attended in Canberra a conference for the Australian Teachers of History as part of Canberra's Centenary celebrations. One of the most impressive speakers was Professor Marilyn Lake. She was looking at Australia in 1913. It was her view that in those days Australia was seen internationally to be the pinnacle of progressive development. She argued that the link between "progressives" in Australia and the USA (particularly in Chicago) was strong and that the Americans were very impressed with the steps being taken by the new nation. She indicated that she was writing a book on this link, which arrived in the Yass Library six years later!
Stella Miles Franklin started work in a Department Store. Then later, via a network that linked across the Pacific, she joined the National Women Trade Union League. As an employee, she travelled on their behalf across many parts of the USA to support workers and unionists involved in major union action.
Though she started as just an administrative assistant, eventually she became editor of 'Life and Labour', a journal on working women, for the NWTU. In this role, Stella Franklin attended the 1912 Progressive Party presidential convention, where former president Theodore Roosevelt was nominated as their candidate after he had broken away from the Republicans. He was unsuccessful and progressive policies (pro-union and pro-women) were lost.
Having had my interest in this period developed, I came across this book on Miles Franklin. Franklin left Australia in 1906 to seek literary success overseas but arrived in San Francisco just days after the devastating earthquake! After assisting with voluntary work she then headed for Chicago, which was then seen as both the best and worst of life in a Mega-City.
Through social connections Stella Franklin met many famous and wealthy Americans, including Marion Mahony and Walter Burley Griffin. However, as a workaholic with some health issues, combined with an onerous workload, her health deteriorated over time. She was with the League for over seven years. Then differences arose between Franklin and her boss, a major male leader of the American Trade Union Movement. She was dismissed!
Franklin left for the UK in 1915. Despite being a pacifist, she joined the American arm of the Scottish Women's Hospital, which served with the Serbs in the fighting in Macedonia. Though not serving on the frontline, she observed and wrote about the awful impact of war on the plains of Kosovo.
After contracting malaria, Franklin returned to England and resumed work with trade unions until her eventual return to Australia in 1923. Her lack of success overseas with her literary efforts was deeply depressing. She stated, "for a literary artist to be drawn away by causes is a form of infidelity and has its punishment ". (It's interesting to note the current winner of the Miles Franklin Award, Melissa Lucashenko, is also an activist with Sisters in Prison!)
Overall, an excellent read which also details Franklin's ambivalence towards Marriage and her ongoing friendships with numerous suitors. Looking forward to the production of "My Brilliant Career" at the Canberra Theatre later in the Year (COVID-19 permitting!) which has been promoted as "Roughly a Century ahead of its time".
Adrian Cameron