Quite a lot has changed over the Covid years, including at UnionsACT, where Vintage Reds is an affiliate. Here is a brief look at the people who are leading the fight for improved working conditions and a better life for us all.
Kasey Tomkins is the UnionsACT Secretary. She has a background with United Voice (now the United Workers Union). She worked in childcare and had planned to train in midwifery, because her wages were so low, before making the leap into union work. Kasey took over at the end of last year from Matthew Harrison, who visited Vintage Reds meetings on a number of occasions.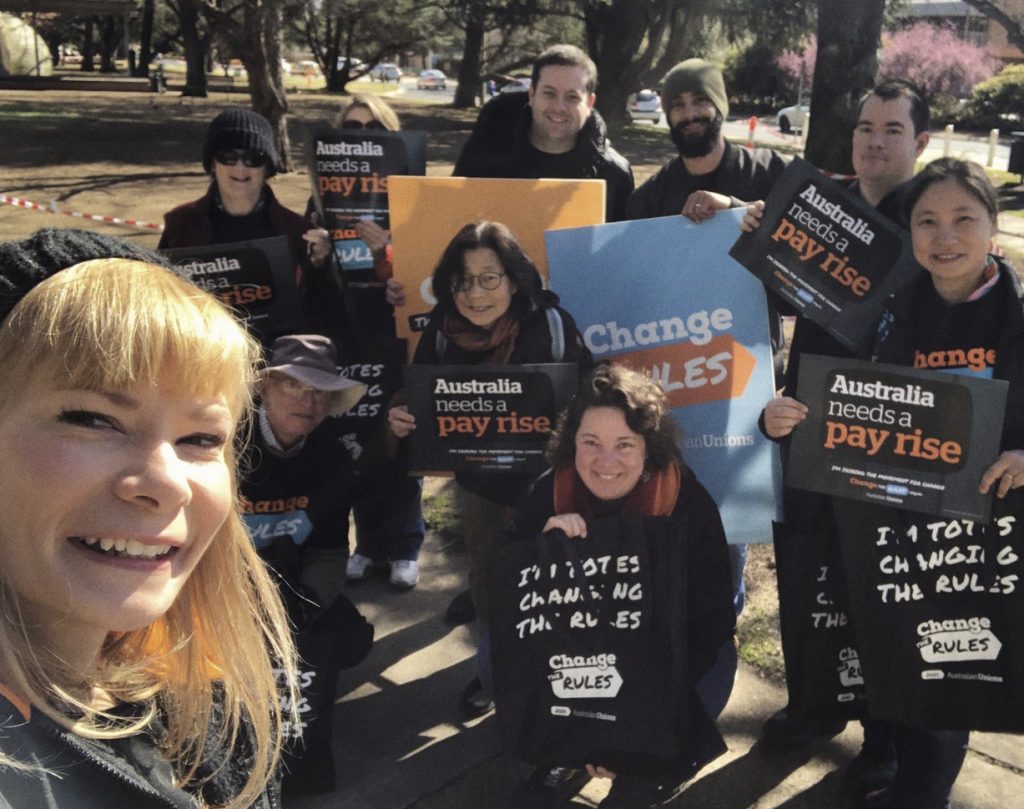 Photo from UnionsACT: Kasey with activists, including some Vintage Reds, in 2018
Maddy Northam, President of UnionsACT, is the regional Secretary of the CPSU. She stood last year as Katy Gallagher's running mate in the federal Senate election, and earlier in 2020 was a Labor candidate in the ACT elections in the seat of Kurrajong.
Former UnionsACT Secretary Alex White (2014 – 20) is now working with the ACTU as its Director of Growth.
Many people will remember Jeremy Pyner, former Secretary of UnionsACT (1994-2002), or the Trades and Labour Council as it was in his day. He began his union life with the Building Workers Industrial Union, on the fully unionised Parliament House site in 1986. Jeremy is unfortunately no longer with us; after a long struggle with his health, he died in November 2022.
Kate Lundy, ACT TLC President until 1995 when she was given first spot on Labor's ACT Senate ticket, started her working life in the construction industry and is another who rose from the ranks of the BWIU. Her time in government led her to the world of information and communications, and she now sits on several boards of directors including as head of the board at the Canberra Institute of Technology.
Continue reading