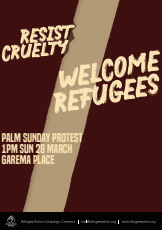 Australia is holding about a hundred Medevaced refugees in hotels, and there are hundreds more people offshore in PNG and Nauru, caught in unimaginable limbo. Earlier in the month a vigil was held in Garema Place for the Murugappan family from Biloela, who have now been in detention on Christmas Island for over three years. Their many supporters in Biloela continue to call for their release.
The theme of this year's Palm Sunday rally organised by the Refugee Action Campaign of Canberra was "Resist Cruelty".
Union groups, religious groups, political parties were all represented. Speakers including former Canberra Times Editor Jack Waterford and Anglican Rev. Roberta Hamilton spoke to the crowd, which then marched out of Garema Place and around the centre of town.
Vintage Reds marched with the banner to show support.