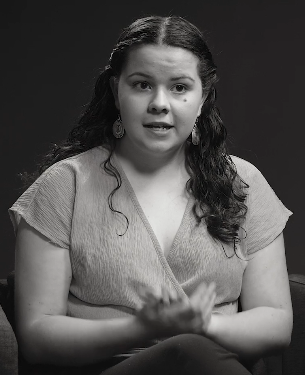 Jane T introduced Dhani Gilbert, an indigenous activist and 2018 Young Canberran Citizen of the Year, who was also more recently named the 2021 ACT Young Woman of the Year. She spoke on the significance of NAIDOC Week.
photo: 2020, HerCanberra
Dhani is a Kalari Wiradjuri woman from central New South Wales. In this part of the country the main river systems are the Lachlan [Kalari], the Macquarie [Wambuul], and the Murrumbidgee; and then further south, the Murray [Milawa]. Dhani spent her childhood living on these traditional lands, and at the Tent Embassy in Canberra. Both her parents are activists and Dhani considers she has activism in her DNA!
Dhani is currently studying at the ANU, in her second year of a double degree in Science and Environmental Sustainability. She is also undertaking a certificate course in Indigenous Culture and Language through Charles Sturt University in Wagga. In her spare time, she is the co-chair of the Aboriginal Youth Advisory Council in the ACT!
This year's theme for NAIDOC is "Heal Country". Dhani discussed First Nations ways of caring for country. Theirs are the best ways to manage the Australian landscape. Certain landscapes require particular inputs to thrive. The goal was to work within the landscape to maintain the ecology, especially the rich fauna. Dhani spoke of 'cultural burning' vs 'hazard reduction' and bushfire, as an example of traditional management of country. 'Cultural burning' is a 'cool burn' which preserves seeds, allows for green shoot regeneration and provides escape routes for animals. Bushfires are 'hot burns', destroying all before them and providing little means of escape for animals, and little feed for those animals which do survive. Like the land, Dhani noted that First Nations people have a lot of resilience.
Dhani spoke of 'seven generations planning' – important in today's decision making, as decisions made today will impact seven generations down the line – good or bad.
Continue reading