German Lessons is a new novel by Canberra writer, Kieran Donaghue.
This dramatic and profound story shows us how history is lived at the personal level. In the early 1930s, Frank Hannaford, a young Australian Catholic, goes to Germany to study. He learns German, he makes friends. While the Nazis are consolidating their power, ordinary German Catholics are mostly resistant. Then the Catholic Church in Germany suddenly withdraws its opposition to National Socialism and the group of students is torn apart.
Visit Kieran's website http://www.kierandonaghue.com to find out more about the author and the background to the story.
German Lessons is published by Palaver Press, a start-up publisher dedicated to fostering new ideas in the fields of ethics and reconciliation. Find out more at smallpressnetwork.com.au, or at http://www.palaver.com/about.
Pam Blakeley of the Vintage Reds had the pleasure of meeting Kieran and interviewing him for our website.
Interview with Kieran Donaghue, December 2019
You've focused on the dilemma for the Catholic Church as Nazism takes over. Why did you decide to look closely at this situation?
It goes back to the figure of Eugenio Pacelli.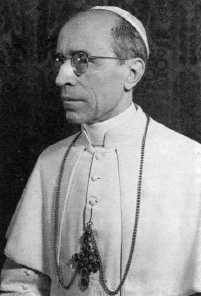 He became Pope Pius XII in 1939 and was Pope through the second world war and up until his death in 1958. There is substantial controversy about Pius XII and what he did, or more importantly did not do, in support of the Jews. There is significant evidence that he was aware of the Holocaust relatively early in the war, yet it seems he did very little to thwart it, though questions remain about his scope for action. [photo: Wikimedia Commons]
I read a book called Hitler's Pope [by John Cornwell, published 1999], a controversial title, which reviews arguments relating to Pius XII during the second world war. In reading this it became evident to me that in the early 1930s the Catholic Church was a vehement opponent of Nazism. Right up until Adolf Hitler became German Chancellor in 1933 and the subsequent election where the Nazi Party took complete control, the Catholic Church had opposed Nazism. But once the Nazis were firmly in power this opposition disappeared almost overnight.
In historical terms that's interesting: Why did it happen? Was it inevitable? But these are questions for historians. I was more interested in the possibility of a fictional exploration of this time.