Verna Coleman, Miles Franklin in America, Her Unknown (Brilliant) Career
(Angus & Robertson, Sydney, 1981)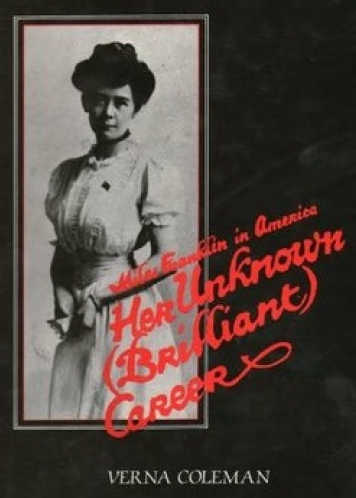 Reviewed by Adrian Cameron, March 2021
In 2013 I attended in Canberra a conference for the Australian Teachers of History as part of Canberra's Centenary celebrations. One of the most impressive speakers was Professor Marilyn Lake. She was looking at Australia in 1913. It was her view that in those days Australia was seen internationally to be the pinnacle of progressive development. She argued that the link between "progressives" in Australia and the USA (particularly in Chicago) was strong and that the Americans were very impressed with the steps being taken by the new nation. She indicated that she was writing a book on this link, which arrived in the Yass Library six years later!
Stella Miles Franklin started work in a Department Store. Then later, via a network that linked across the Pacific, she joined the National Women Trade Union League. As an employee, she travelled on their behalf across many parts of the USA to support workers and unionists involved in major union action.
Though she started as just an administrative assistant, eventually she became editor of 'Life and Labour', a journal on working women, for the NWTU. In this role, Stella Franklin attended the 1912 Progressive Party presidential convention, where former president Theodore Roosevelt was nominated as their candidate after he had broken away from the Republicans. He was unsuccessful and progressive policies (pro-union and pro-women) were lost.
Having had my interest in this period developed, I came across this book on Miles Franklin. Franklin left Australia in 1906 to seek literary success overseas but arrived in San Francisco just days after the devastating earthquake! After assisting with voluntary work she then headed for Chicago, which was then seen as both the best and worst of life in a Mega-City.
Continue reading